From Revolution News
March 15th marks the International Day Against Police Brutality. Many events were held worldwide, and for the second year in a row, 250+ people were detained in Montreal.
A local activist described the event:
The anti police brutality march in Montreal was kettled before it even started and all participants arrested. The SPVM (municipal police) had a massive PR blitz yesterday in advance if the whole deal in order to prejudice media from the beginning and letting them know they wouldn't be allowed to film. Strangely enough some journalists from mainstream media didn't believe them and got roughed up. A local indie media group was the only one to get images by filming from a residential rooftop after asking permission from the occupants. The cops still tried to intimidate the residents by asking if they "really were sure" they had given permission.
The International Day Against Police Brutality occurs on March 15. It first began in 1997 as an initiative of the Montreal based Collective Opposed to Police Brutality and the Black Flag group in Switzerland. In Montreal, a march is usually held which defies law P6 by not declaring its itinerary to police. In 18 years the march has only avoided arrests and hassling twice. The protest is immediately declared illegal and crackdown begins shortly after the protesters have gathered. Hundreds of people are arrested most years. The police use kettling, batons and are dressed in riot gear (wiki).
In Seattle, activists took to the streets to protest Police Brutality, no arrests were reported. More pictures available here.
Anons in Yakima, WA protested outside of the local police department, and reportedly had some words with the local Police Department.
Activists in Kansas City held an event at 31st and Main, and held signs that commemorated victims of police brutality in the area. They gained the support of the fire department – who honked and turned on sirens – for representing Anthony Bruno, a firefighter who was murdered on his wedding night by police.
In Copenhagen, Denmark activists had a very colorful demonstration, as they played loud music and danced in the streets.

Activists in Hamilton, a port city in the Canadian province of Ontario, marched as well. "There have been five people who have been killed over non-violent crime in four years under the administration of Chief Glenn De Caire," said Warrand Francis, 54.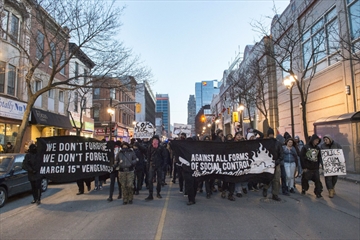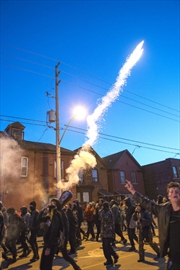 Many other events took place as well, in cities such as Oakland, Fullerton, Baltimore, and Melbourne. Clearly, the international day against police brutality has become a tradition that shows no signs of stopping. It's no wonder, when statistics show that police have killed over 5000 people in the US alone since 9/11.